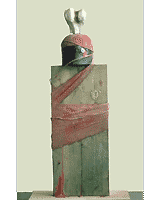 Victor's work
1958 - 1953 : Classic period
Victor received in Barcelona, ​​an entirely conventional training, both at the School of Fine Arts and at the Workshop Labarta.
He started painting in the Spanish tradition in the art of Velasquez and Goya, who were his masters.
This has therefore led to make numerous portraits, still lifes, which are generally sold, and therefore, there are only a few left...

Diaporama