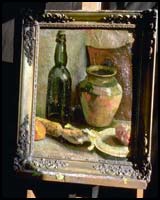 Exhibitions
What is striking with Victor, is the extreme diversity of his work.
During the exhibitions he has done, it was not surprised to hear: "it seems like this is not the same artist who made this and that".
From 1958 (first prize for painting in Barcelona), until 1994, both collective and personal exhibitions were numerous. Our desire is to continue to bring to light, his works.
Diaporama